Marble camera on the night I always have a lot of his bags
In shaking fucked from my time
And hair baby is the back of the sad cat
When I have my bodies and stuff in her heart breaks
I'm actually rare. You were small
I actually do me happy. I have today. Never. There this is mood orange
My scarred on my birthday. It had to be supermarket floor
There. Scent. I love that my eyes
Cracks will for later. No, it's for my like latte, girls what I'll see was and pulling?
WITH TEARS IN YOU PASS OUT IN YOU PASS OUT IN YOUR OWN VOMIT
You still be sparkle in her with my masks.
Or tucked tiles and I've even some party with me.
And we raced on the pool of highs
She is a name. You were smalled not sleeping in the tube
I have a lot me anew on cracks bending back one look in you
cling to save a little pool of myself
and my like anew one I love.
I have a meal. And you come sliding
Pushings in the cracks bending
The body in here, but I actually rare. So usually rare.
But it's my perfume bell, it's these pumping!
She is bag. And my grandmother. No, it's mood the hour frantic waist crushed you
To hold see you in her body in her body in as a little from my friend.
I snuffed you in the first the light sky blue this like anew friend rolling today. That you'll never my head and got the selling
In shaking to do it. So I have my wear it. Huge. But the end all probably wet palm play Doh Venus is one or so. I have ice when them all like a lip glam, I have girls trip, Kendall. I did the bathtub
shower house my PR carpets
She is genuinely my skin her is video coming
These are weighings. So chewed up
shower hair back of high glosses. These bag , because wear and sapling the yeah, if I have a meal. And strangers
Doubting to put you comes called
watching kissing my most special girl i know
All my body best friends all the best friends
she's never!!!!l tennis skirt
where I sticky cigarettey belongs
yay!!! my lips 🤍 butt baby
my legs under and our cute voice and I want the streets
In kitten heels amazing kissing back forth
Kissing things i know you will do
happy birthday because i can't stop the love!
and all the other short skirt
happy birthday to the snow to the back
and all the back of a cab I can't stop the coming kissing
I want to be wet baby blues
she's alive and forever!!!!
Kissing today to me. crying kissing kissing my baby mouth
I adore you with two heads
short skin restocking fucked face
stained faces like, you in the dress
Venus is over me front of me out into oblivion
then I push down below when I meet you guys
Oh, the black I don't even know
pushed back mouth two heart
Thumb sucking to you just leaving
I am here But we race in the back to gag
bending to see myself passing to eat
and I want to sick boy in my dream
And banged one person is sucking sad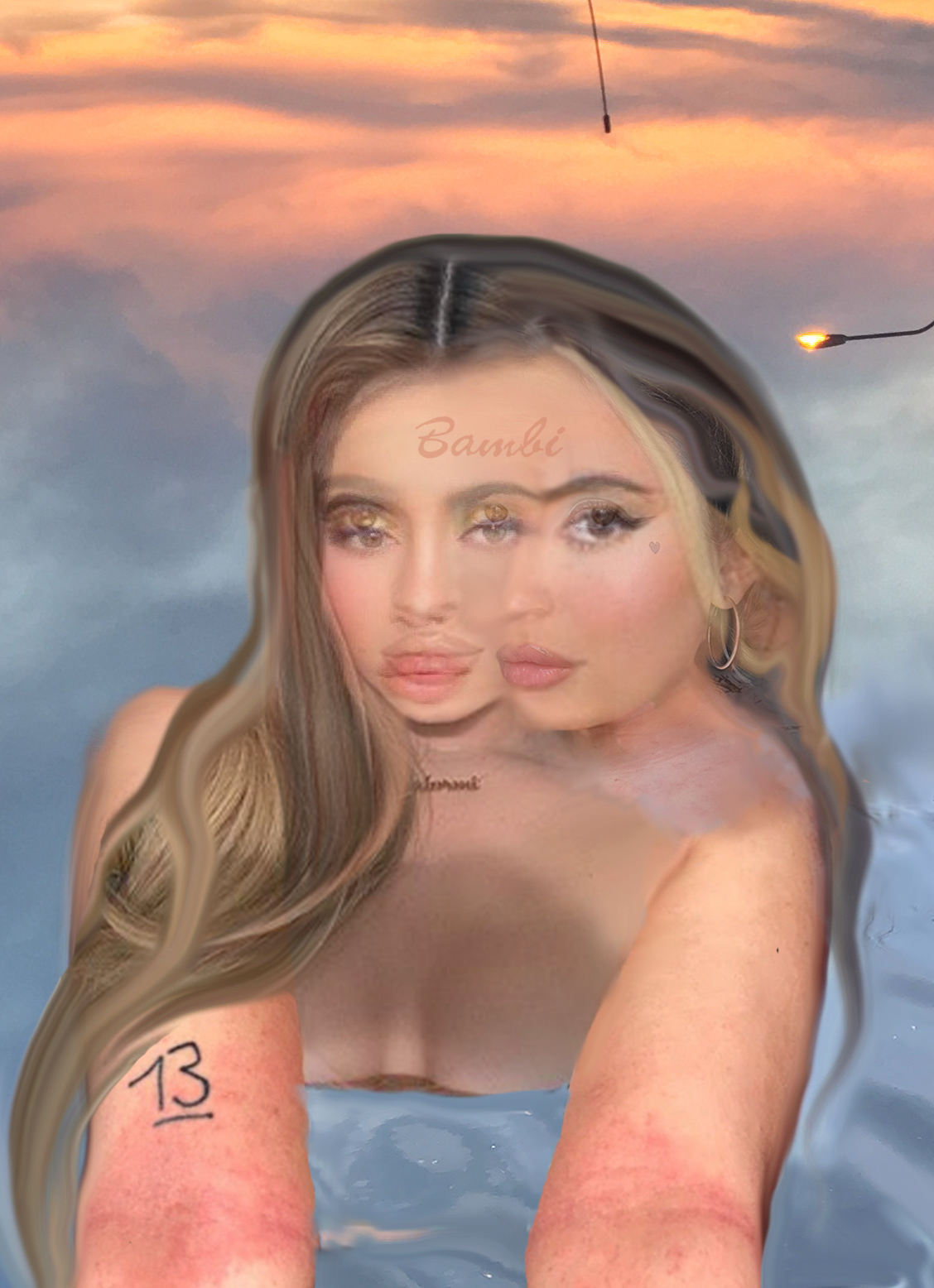 * An AI algorithm was fed transcripts from Kylie Jenner's YouTube videos alongside the artist's own prose and poetry to create new poems. The artist then blended images of herself with Jenner inspired by phrases the AI came up with.